Become a Patient

How to Become a Patient?

Congratulations on choosing alternative medicine/integrative medicine as your natural, most reliable path to good health. We think you will be satisfied with the results and the genuine, down-to-earth approach we take with our patients. Please plan at least an hour for your first visit.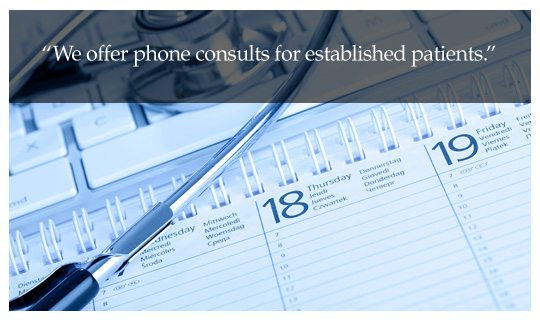 First time appointments must be in person.
Please note that after your initial visit, Pennsylvania resident patients may renew their bio-identical hormone replacement prescriptions and thyroid replacement medications via phone consultation.
Our website is available to place orders which include RX refills with a valid prescription from family medicine Dr. Adrian J. Hohenwarter.
All new and established patients are expected to schedule follow-up appointments to discuss the progress of their treatment plan. Phone calls and emails are not a substitute for this.
Annual follow up appointments are required for prescriptions and every 6 months for testosterone

.

Our medical office is a scent and fragrance free building.

You may be asked to leave and reschedule your appointment if you or your clothing has odors from perfumes, scented soap, laundry detergent, fabric softeners, skin creams, hair sprays, etc. Many of our patients are chemically sensitive and will feel sick and have to leave due to such odors. We recommend using fragrance-free laundry products on a regular basis and especially before your appointment.

Note that laundry and fabric softener fragrance is engineered to stick to the clothing and may NOT be able to be washed off. Individuals with fragrance sensitivity are protected by Federal Law and the Americans with Disabilities Act. Note that natural essential oils (not perfumes) are allowed but note that many 'natural' products may still contain synthetic scents.

Our medical office is a smoke free building. Act 27 of 2008, The Clean Indoor Air Act (CIAA) regulates smoking in public places and workplaces across the Commonwealth of Pennsylvania. Beginning September 11, 2008, smoking is not allowed in public places or workplaces including medical offices. Please do not smoke before your appointment and ensure your clothing is smoke free to protect our sensitive patients. You may be asked to leave and reschedule your appointment if you or your clothing has tobacco odors.

Please note we cannot treat patients who do not live in Pennsylvania.

Emails pertaining to the diagnosis and treatment of medical conditions will not be addressed outside an office appointment. Emails will not be read due to the large volume of emails.

Diagnosis and treatment of medical issues cannot be addressed via email or messages and questions left with scheduling staff.
Dr. Adrian office hours
Monday - Thursday 8:30am - 4:00pm
Friday 8:30am - 1:00pm
Supplement Store hours (located within Dr. Adrian's office)
Monday - Friday 8:00am - 4:00pm
Our family medical doctor in Palmyra services patients from various locations such as Annville, Chambersburg, Hummelstown, Harrisburg, Hershey, Lancaster, Lebanon, York, Elizabethtown and Reading, PA.
Subscribe to our Newsletter